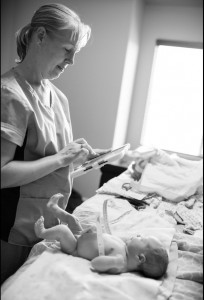 Interested in Earning a Master's Degree in Midwifery?
Download our Graduate Program Fast Facts brief!
The Midwives College of Utah Master's degree program is designed for current CPMs & CNMs, and is a research-based program aimed at nurturing the next generation of midwifery leaders, educators, and advocates. A robust curriculum gives students the foundational skills necessary to engage the maternal-child health and midwifery fields as innovative clinicians and leaders. Upon completion of the degree program, you will hold a MSM (Master of Science in Midwifery) graduate degree!
The 32-credit program provides coursework in research methodologies, professional development topics (such as midwifery education, community mother and child health, holistic midwifery), critical studies in midwifery care, and fieldwork-based experiential learning. Additionally, you will complete a research-based thesis or non-thesis applied project, in which you will make an original, substantive contribution to midwifery care and maternal-child health. ,
You will work closely with the Graduate Dean to develop an Individualized Development Plan (IDP) that will help tailor your graduate studies. You will also engage in professional and academic experiences, such as conference presentations, graduate seminars, and opportunities for publishing. Your work in the graduate program will be guided by a MSM committee, consisting of one primary advisor and at least two additional MCU graduate faculty members.
Your graduate studies will be individualized and substantive with plenty of support by graduate faculty and the MCU graduate student community.
Contact Courtney Everson, Ph.D., MCU Graduate Dean, at graduatedean@midwifery.edu  or 1‐866‐680‐2756, ext. 806 to discuss your future today!
ELIGIBILITY:
1) must be a current CPM or CNM;
2) must hold a Bachelor's degree in any field; AND
3) must complete SOSC 2050 (Ethics & the Law) and STAT 2010 (Foundations of Evidence-Informed Care), or demonstrate course equivalency. These two courses can be completed at part of your graduate program.
HELPFUL LINKS: 
Application Deadlines and FAQs
Learn more about Midwives College of Utah:
Download MCU Student Handbook and Course Catalog