{Blog Post by: Aisha Michelle Al Hajjar}
I'm proud to say that MCU is my alma mater and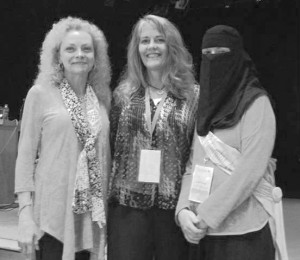 has a long-standing history of preparing "Midwives of Excellence."  In fact, MCU is one of ten midwifery education programs in the United States that is accredited by MEAC (Midwifery Education and Accreditation Council) and prepares students to receive the CPM (Certified Professional Midwife) designation.
Of course there are other pathways to midwifery.  Some of those paths include becoming a nurse first—which I did not want to do—or going the route of pure apprenticeship with little or no academic study—which I knew would not give me the credibility I'd need.  One of the things that drew me to MCU, besides being MEAC-accredited, was that they offered a variety of degrees in the field of midwifery.  As a bonus, they also have a 99% pass rate on the NARM exam (national midwifery credentialing exam).
Although I knew that a degree wasn't necessary to practice midwifery in every setting, I also knew that my work in midwifery would be bigger than catching babies.  A degree would provide credibility to my larger efforts, regardless where I decided to work.  In my case, I had a few college credits under my belt, but I didn't have a completed degree.  This was something that always bothered me, and I knew that someday I'd need to go back and finish college.  Being able to wrap up my college profession, in a field of my passion, was a real motivating factor and a blessing.
To give you an example of how my education has encouraged my midwifery work, I will list a few things, besides attending births, that I have accomplished under the guidance and support of the MCU faculty and staff.
Published a book on natural birth
Established a childbirth education program
Created a curriculum to globally train childbirth educators and doulas
Lectured at conferences about midwifery and natural birth around the world
Trained obstetricians and midwives on a variety of topics
Co-organized international conferences on natural birth and midwifery
Established a task force to establish midwifery in regions where the midwives model of care doesn't currently exist
All of this has been accomplished in under four years, during my tenure as a Bachelor of Science in Midwifery Student at MCU.  When I started on this journey, I knew that I had big dreams and goals, but I had no idea of the path it would take or the opportunities that would open up.  I can clearly say that I would not have accomplished so much if it were not for the support and quality education that I've received during my time at MCU.
In fact, I've found so much value in the guidance I received during my undergraduate education that I've recently enrolled in MCU's Master's program.  I have a lot more work to do in midwifery and each of my graduate degree classes support my efforts.  In reality, all the work I've done along the way at MCU has been instrumental in achieving my goals, and much of it has been immediately put to use in the real world in which I work.  In fact, many of my completed assignments can be found in my childbirth curriculum and many others are the basis for lectures or workshops I've given in my region.
Each of us come here to follow our dreams for making a difference in the world of birth; for some that will be one birth at a time as a competent midwife in the local community, and, for others, it will be a journey into birth advocacy and activism.  Regardless, you won't know where your path will lead until you walk through the open door.  With so many students from around the world attending MCU and a variety of financial aid resources available, you too can make your dreams come true.  I'd encourage you to take the next step.  I'd be honored to share the journey and hope to "see" you in school!