The Student Council is chosen by process of nomination by the student body, faculty and administration, with final decisions being made by the Student Council members and MCU Student Council Advisor. Student Council (SC) members are generally more experienced students with leadership skills that have an interest in representing the student body at MCU. SC members rotate on a regular basis to bring new ideas to the council as well as give a variety of students the opportunity to participate in these leadership positions. The student council serves as a liaison between administration and students.
The purpose of the Student Council is
• To serve as liaison between MCU students and administration in order to facilitate cooperation, communication and relationship
• To provide a channel for student involvement in the development of school policies and regulations
• To enable students to bring up concerns to student council leadership in a safe and, if desired, anonymous way and know that student council members will address the issue with administration
• To promote effective student/faculty/administration/board relationships
• To represent student feelings, opinions and interests
Meet your Student Council
Marivette Torres

I am a mother of eight children, and have been married 29 years. My oldest is 27 and the youngest is 8 years old. I had three hospital births and five home births. The first was a C-section, and the rest were VBAC. I've been a birth doula for 20 years certified through Childbirth International. I am a Rebozo Instructor and Childbirth Educator. At the tender age of 44, I began midwifery school by attending MCU's continuing education program in January 2015 to see if distance learning was for me. I fell in love with it, and became an enrolled student in the Fall of 2015. My goal as a midwife will be to bring the midwives model of care to Spanish speaking pregnant people in my community who currently have no one providing midwifery care to them in the Spanish language. In my "free" time, I enjoy hanging out with my children, road trips, caring for my twelve hens and collecting their eggs, and watching Netflix series. I am a new member of the student council beginning June 2017. I am honored and looking forward to serving the student body!
Skaidre (Sky) Brown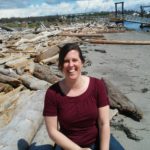 I'm a mother to 3 wonderful children, 2 boys and 1 girl, 2 teenagers and 1 almost teenager. I've been married to my husband for 19 years this year. We live on 4 1/2 acres with 23 chickens and a vegetable garden in the Skagit Valley, WA. I started MCU Fall 2016 and joined student council Summer 2017. I've been a childbirth educator and birth doula for 15 years, and a midwife assistant for 7 years. I am excited to have finally started my next step in my career to becoming a midwife.
A little note from Student Council

It is our honor to serve the student body. We are working on a regular canvas conference and will post an update when that happens. We also would like to work this year on getting an online apparel store for MCU on the website. We are happy to help you with any question or concern about and within MCU and privacy is always protected. We are always looking for others who feel called to serve our MCU sisters and brothers as well.

Enjoy this little tidbit of inspiration, 
"Be true to yourself, help others, make each day your masterpiece. Make friendship a fine art and drink deeply from good books.
" – John Wooden