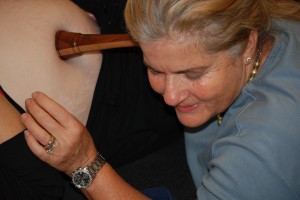 Chances are, if you're exploring the MCU website and reading this post, you are contemplating a journey to midwifery. Let me be the first to welcome you! Women who consider midwifery are most likely following a nagging yearning towards the profession that we like to refer to as a calling.
Three years ago I was in your shoes. I had been drawn to birth work since I was nine. At that time I dreamed of being a "baby doctor" (obstetrician) when I grew up. That fantasy died fast when my mother explained that I'd have to work all hours and would even have to go to work on special holidays. That was all it took to discourage me. But when I become a mother, eighteen years ago, the desire really began to burn. I hadn't really considered midwifery back then, as I thought you had to be a nurse first. After many years of niggling aspiration, I became a childbirth educator. But I felt I was arming parents with empowering information, only to send them in for a battle as a lamb against the lions. Watching my newly enlightened parents struggle for their rights to a natural birth led me to the next step, doula work. But even that wasn't enough. I finally came to the realization that I needed to be the one "in charge" of their births, in order to give them back the control they deserved.
I began exploring my options and asking around in the birth circles I had become a member of. One experienced midwife mentioned MCU. I explored their website, much as you are doing today. I was relieved to discover that I didn't have to be a nurse to be a midwife! I was amazed that I could actually pursue my calling from a distance. I was impressed that MCU was one of the few accredited midwifery schools in the States and that I could earn a degree for my efforts. I made a prayer, created an account, and submitted my application.
I announced to my family and the world that I had applied for midwifery school. My eldest five children were proud and excited and vowed to do their part to pick up more slack with my younger three children and the housework so that I would be able to study. It felt surreal.
After my interview and acceptance letter it hit me, I was committing to a schedule of study and exams and the nitty-gritty parts of birth that I wasn't sure I really wanted to get my hands into (no pun intended). Did I "really" want to be a midwife?
I expressed my second thoughts to my husband, who had already agreed to finance the journey and accepted, at least in theory, the sacrifices (financial and logistical) our family would have to make in order for me to study. I was expecting him to jump at the opportunity to back out and was looking for permission to forget the whole crazy idea.
To my shock, he did just the opposite. He said to me, "Aisha, you were given a gift from God. You had eight beautiful natural births. Your experiences along with the aptitude to do this are not just free for you. What will you tell God on the Day of Judgment when he asks you what you did with these blessings?"
His word hit me like a ton of bricks. My passion became crystal clear. This was not just about me, whimsically wanting to grow up and be a midwife some day, this truly was a calling. I mentally and emotionally committed to my decision that day and never looked back.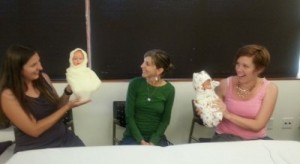 I won't tell you that it's been easy. Every member of my family has made sacrifices. But not once have I questioned my decision. The doors that have opened for me on this journey have been amazing. I truly feel that God led me to this and He has led me through it. Next month, God willing, I will be taking my NARM exam and graduating with my Bachelor of Science in Midwifery. I can see the light at the end of the tunnel and am almost finished! I couldn't be happier and have even decided to go on and pursue my Masters starting in September.
So you want to be a midwife? I suggest you make a prayer, create an account, and submit your application. If you're accepted, don't look back. God has led you to this and He will lead you through this. Expect sacrifices, ups and downs. It won't be easy. But it will be worth it. What will you do with the blessings that have been given to you? God bless you and I look forward to "seeing" you at school!
Aisha Al Hajjar is an advocate for women and natural birth, a published author, a member of Midwives College of Utah Student Council, and finishing up her BS degree at MCU.
For more information about attending Midwives College of Utah visit the Student Center.